Special Kids Photography of America
Mission Statement
The primary mission of SKPA is to represent special children to professional photographers
in a effort to expand exceptional photographic opportunities to these unique children on a national level

This unique focus is accomplished through training,
special photographic techniques and tools, advocacy and awareness.
Special Kids Photography of America (Skp-a) was founded in 2000 out of a mother's frustration to obtain a professional portrait of her one-year-old infant son who was born with a severe physical disability. She walked into the studio where the photographer took one puzzled look at the child then back at the mother, as if to say, "You want me to take a picture of him?" Needless to say, she was devastated. Throughout the next week, this young mother's emotions went through frustration, confusion, hurt and then anger. That's when she formulated the idea of providing training to photographers who would benefit from the unique skills to hold photographic sessions with children who are seriously ill or have some other type of special need.
SKPA has functioned as a nonprofit organization since 2000, providing unique training, specifically designed to achieve successful results with children representing each of the major disorders commonly encountered by photographers. For example, children with Down syndrome will respond very differently to a photographer than would a child who has autism. Our training provides the knowledge and our tools section provides aids needed in photo sessions with special children.
What They Say About SKPA
I have been working with children with special needs for a few years now and noticed that few, if any, had family portraits. .... I think your accreditation would be a great addition to my professional attributes.

I am so excited and honored to be a part of your organization.

The Down Syndrome Guild used one of my photos on their Facebook cover page and they have been getting tons of inquiries.

I discovered your website today and was absolutely fascinated with it. What a beautiful site. I am starting a photography business with my husband and would love to be involved with getting it started in the UK.

I've photographed a few special kids over the years, and they were by far my most enjoyable and rewarding times with clients.

I can't believe the response I am getting from parents of special kids . . . overwhelming. Thanks.
What Makes SKPA Tick
SKPA is governed by a voluntary board of directors (made up of photographers, parents and professionals) and, in accordance with nonprofit corporation rules, is managed by an executive director, treasurer and secretary (all currently unsalaried) that are subject to the direction of the board. Our by-laws may be reviewed upon request. We are funded through voluntary public/private donations, sales and grants. There are currently no salaried positions within the organization.
Original Research by SKPA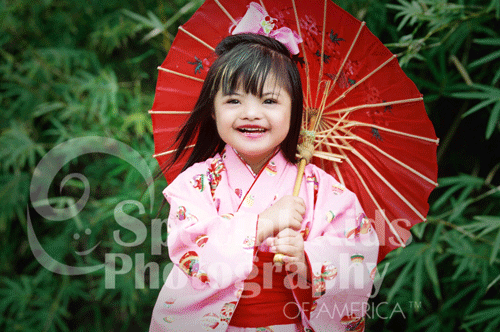 Since its inception, SKPA has conducted extensive research, gleaned practical experience and consulted with several schools, parents and therapy centers to gather accurate information about the varied conditions that apply to photographing children with special needs. This expertise is passed on to photographers in training sessions and more recently, also available as a CD that can be printed and studied.
An important service offered by SKPA is accreditation that validates completion of study offered through training and proof of professional photographic results in sessions with special children. Specific direction and requirements for accreditation are listed on this website.
Photographers who achieve accreditation with SKPA receive a certificate of completion, their contact information posted on our website and the use of the SKPA logo on their website as well as in other marketing materials. We'd like to add that they also receive a great deal of warm fuzzies and gratitude from parents of children with special needs.